Design Center
Few experiences match the excitement of selecting the options and upgrades that transform a new home into your new home. However, choosing flooring, fixtures and faucets can be overwhelming. Rocklyn Homes stunning  5,000-square-foot Design Studio eliminates the stress, giving homeowners the resources and the confidence to successfully personalize their new home.
A harmonious marriage of form and function, the studio presents options in an orderly and innovative way. It helps homeowners understand the options and visualize how they work together to create a beautiful finished home.
The Design Studio is staffed by two full-time professional interior designers who walk homeowners through the selection process. It's a fun, but focused exercise that takes about 2-3 hours for a townhome, and 3-4 hours for a single-family home.
Buyers who are currently under contract can preview the Design Center on Monday and Friday between 11 am to 4 pm with an appointment.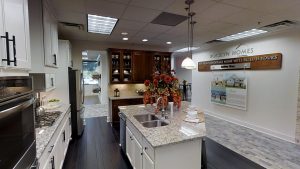 The studio is smartly designed and merchandised. Visitors enter through a reception area modeled after aRocklyn Homes exterior, where they see choices of brick, stone, paint colors and other exterior features. Inside, it's all about outfitting the kitchen, with a model townhome kitchen to the left, and a single-family-home kitchen to the right.
As they move into the interior of the studio, guests are presented with more than 75 options of fixtures, railings, appliances, wood treads, carpeting choices and more. The visit concludes in the expansive tile area, with some 160 selections. The designer not only records the buyer's choices, but educates and advises during the process. It's the designer's job to communicate the Rocklyn Homes value proposition, and ensure that any homeowner concerns are reported and addressed.
The Design Studio represents yet another layer of value.
---
Check Out Our Design Center Inspirations On Pinterest
---