Beverly Heights in Stonecrest by award-winning Rocklyn Homes is coming soon and is expected to start selling during the 4th quarter of this year!  You can get on the VIP list here to keep up with the most recent updates and email communications.
The age-old question is it better to rent your house or buy a home?  This article in KeepingCurrentMatters.com discusses four things renters need to know.
As a renter, you're constantly faced with the same dilemma: keep renting for another year or purchase a home? Your answer depends on your current situation and future plans, but there are a number of benefits to homeownership every renter needs to consider.
Here are a few things you should think about before you settle on renting for another year.
1. Rents Are Rising Quickly
Rent increasing each year isn't new. Looking back at Census data confirms rental prices have gone up consistently for decades.
2. Renters Miss Out on Equity Gains
One of the most significant advantages of buying a home is the wealth you build through equity. As a renter, you miss out on this wealth-building tool that can be used to fund your retirement, buy a bigger home, downsize, or even achieve personal goals like paying for an education or starting a new business.
3. Homeowners Can Customize to Their Heart's Content
This is a big decision-making point if you want to be able to paint, renovate, and make home upgrades. As a homeowner, you have the freedom to decorate and personalize your home to truly make it your own.
4. Owning a Home May Provide Greater Mobility than You Think
You may choose to rent because you feel it provides greater flexibility if you need to move for any reason. While it's true that selling a home may take more time than finding a new rental, it's important to note how quickly houses are selling in today's market.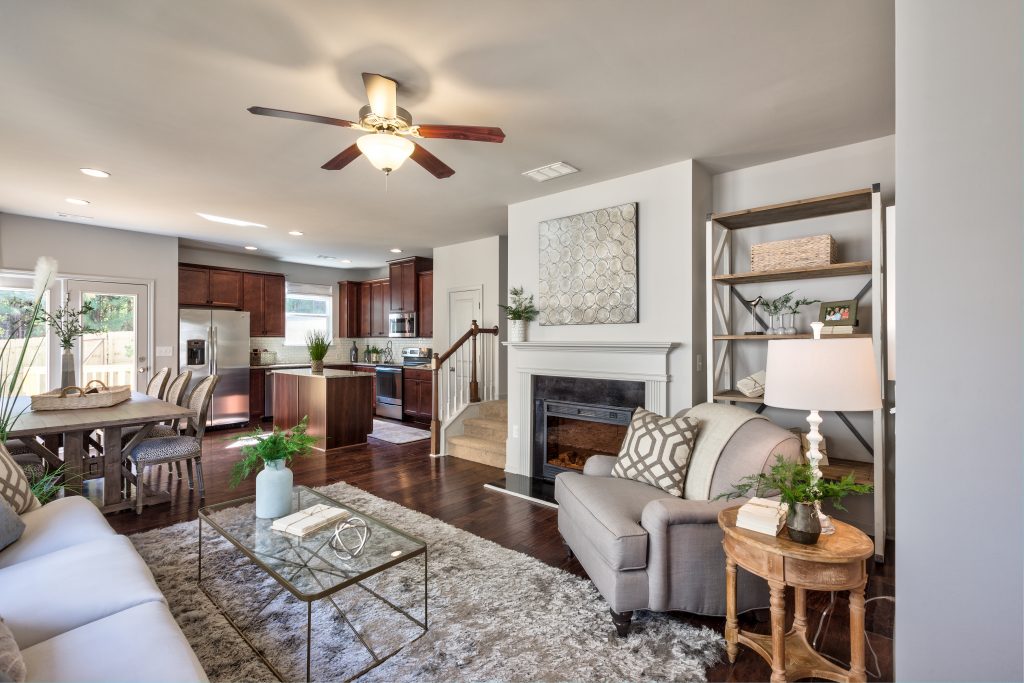 You can choose your brand new townhome at Beverly Heights and even choose some of the design features! Rocklyn Homes offers a great value for your money.  Not only do you get a brand new home but the features are a great combination of traditional and modern.  Beverly Heights will be offering a 3 Bedroom | 2.5 Baths townhome with a one-car garage and gorgeous brick, stacked stone and cedar shake exteriors.
Located in the very popular Stonecrest area, this community will have easy access to Stonecrest Mall and downtown Atlanta for the best eateries and shopping.  Not only does the community have a quick commute to Stonecrest Mall with an easy commute to Atlanta. It will be minutes from the new Facebook Data Center and Three Ring Studios for incredible career opportunities.
For nature lovers, Arabia Mountain is a quick trip or get some fresh and exotic food at DeKalb Farmers Market in Decatur which is just down the road a bit.  For year round events, you are under ten miles to the popular Stone Mountain Park with everything from hiking to events.
Address:
2295 Wellborn Rd. , Stonecrest, GA 30038
Sales Center Hours
Please call Aja Caffey, Community Sales Manager,  at 470-646-2413 for more information.  On-site office hours are coming soon!  You can also contact us at BeverlyHeights@rocklynhomes.com or join our VIP List for more information.
Award-Winning HomeBuilder
Award-Winning Rocklyn Homes is one of Atlanta's Top 5 Homebuilders in the Atlanta Business Chronicle 2018 and listed as the 12th largest builder in Atlanta by the Atlanta Business Chronicle 2019 and the 10th largest homebuilder in 2020. Ranked Nationally at #68 in the 2019 Builder 100 List by Builder Magazine. Rocklyn builds quality single-family homes and townhomes with award-winning plans in the Metro Atlanta area from the Low $200's to $900's.
Follow on Facebook, Instagram, or @RocklynHomesAtl to keep up with trends, events, new communities, new homeowners PLUS special savings and buyer incentives!
Rise UP with Rocklyn homes, the exclusive homebuilder of the Atlanta Falcons.#RocklynHomes.com
#newconstruction
#townhomes
#singlefamilyhomes
#atlantarealestate
#realestate
Your health and the health of our team is our ultimate concern. Please click here to see our safety procedures.
DISCLAIMER – Homes and floor plans represented here are for illustrative purposes only. Actual homes will be similar in exterior appearance. Information is believed accurate but not warranted and is subject to change or withdrawal without prior notice.