Spring Valley
Now Selling From the Low $300's
About Spring Valley
FAQ's
What is the very first step we should be doing? Get pre-approved with Bank South https://www.rocklynhomes.com/preferred-lender/
What will your price point be? $320k-$340ks
How big will your homes be? 1539 sqft
How many bedrooms and baths? 3 bedrooms and 2 1/2 baths
Will you feature an owner's suite on the main floor? No, All bedrooms are on the second floor.
Will Homes come with fences like other Rocklyn Communities? Yes, except possibly the houses that front on the main road with rear entry garages
Will Homes come with blinds thoughout? Yes, each Home comes with full-house blinds
How many Homes? 80 units total
When will you start selling? Selling Now!!! First come first serve APPOINTMENT ONLY – Buyers must be approved by BankSouth to schedule an appointment https://www.rocklynhomes.com/preferred-lender/ 
When will you close your first home? Estimated time of first closing – Winter 2022
What is your rental cap? 25% (20 Homes)
Do you have a preferred lender? Yes, Bank South, click link for more information: https://www.rocklynhomes.com/preferred-lender/
Will you pay closing costs? Yes, UP to $6,000 with our preferred lender Bank South
Will there be a pool or Tennis Courts? NO
What are the HOA fees?HOA is mandatory and is $200 a month
What does HOA fees cover? HOA fees cover exterior building maintenance and insurance as well as termite bond and lawn care
How do we purchase?Email our on-site agents at springvalley@rocklynhomes.com to
begin the process and get approved by our preferred lender Bank
South
More information to come via website
Spring Valley
Tucker Norcross Rd.
Tucker, GA 30084
Sales Center Hours
Tuesday-Saturday 11:00-6:00
Sunday-Monday 1:00-6:00
678-835-8772
Community Sales Manager
Alex Jenkins 678-835-8772
Assistant Sales Manager
Floor Plans
Floor Plans
Floor Plans
Beds
Baths
SqFt
Expand All
*DISCLAIMER – Homes and floor plans represented here are for illustrative purposes only. Actual homes will be similar in exterior appearance. Information is believed accurate but not warranted and is subject to change or withdrawal without prior notice.
Siteplan
Points of Interest
Points of Interest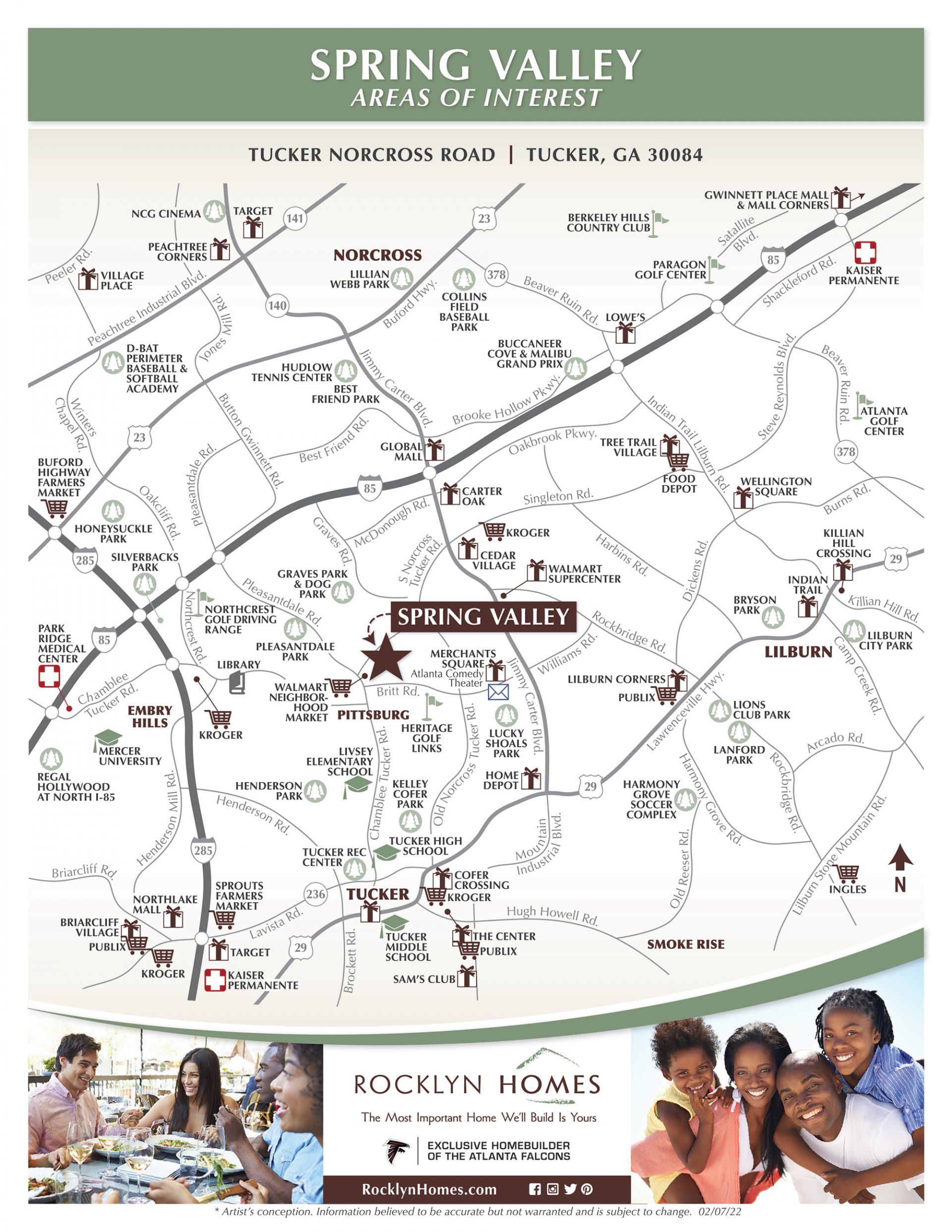 Contact
Have questions about
Spring Valley?
We have answers!
Visit Spring Valley
Tucker Norcross Rd.
Tucker, GA 30084
Sales Center Hours
Tuesday-Saturday 11:00-6:00
Sunday-Monday 1:00-6:00
Community Sales Manager
Alex Jenkins
678-835-8772
Assistant Sales Manager
Directions
Spring Valley in Tucker
Join our VIP List!
Spring Valley in Tucker, GA
Be the first to learn about our community updates
Register below to be added to our VIP list