Rocklyn Homes wins 15 awards at the 42nd Annual OBIE Awards Celebration held on October 22nd at the Georgia Aquarium.  The OBIE Awards are an Atlanta tradition hosted by the Greater Atlanta Home Builders Association.  The GAHBA Professionalism Awards also known as "OBIE Awards" are given to recognize outstanding achievement in the new home building industry. Named after the obelisk shape of the actual award presented, the OBIEs are considered a premier award in the new home construction industry.
Every year, homebuilders enter into this prestigious event for their communities, sales teams, marketing and building designs.  This year, a new community, Townes of Auburn in Auburn, GA was presented with seven awards for building design, marketing and the Sales Team of the Year Award.   Rocklyn Homes is proud of the their Rocklyn Homes team members that all contributed to the awards received for building design, model home designs, signage and landscaping awards for Townes of Auburn.   Congratulations to the Stellar Sales team winning the Sales Team of the Year – Gold!   The winning team includes Ida Spahr, Alex Jenkins, Maya Caffey and Lindsey Rose. (seen in featured image)
Rocklyn Homes won 15 awards this year at this spectacular event.
Building Designs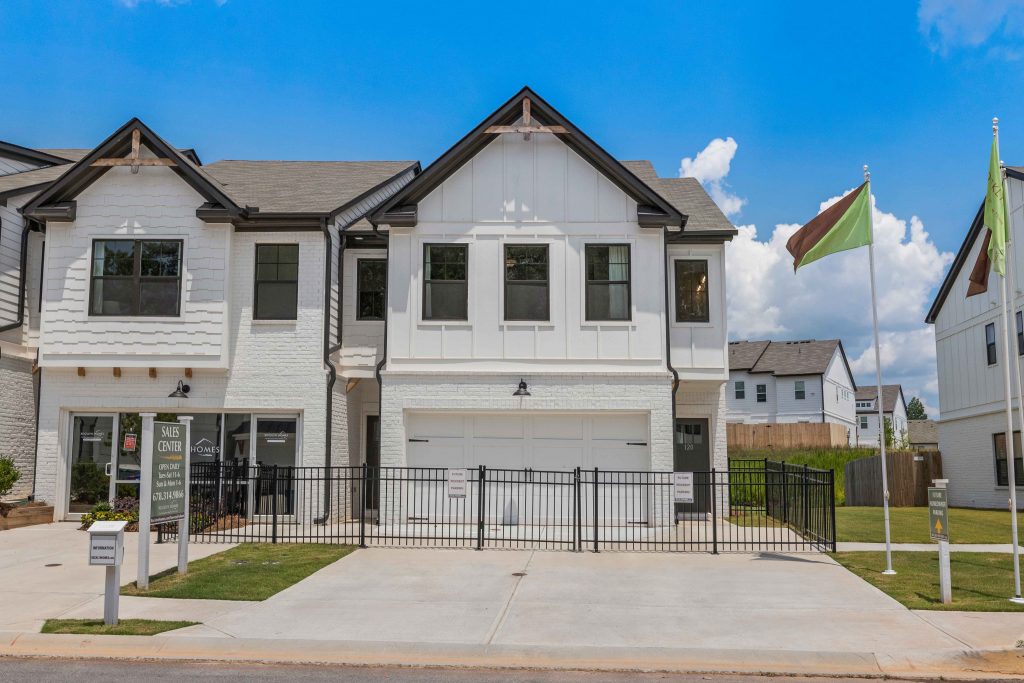 Rocklyn Homes won Best Building Design in the Gold & Silver category for their plan the Hanover/Redland at The Townes of Auburn.  These homes were priced in the $200 – 299K range.  The next Gold & Silver award was for Single Family Attached – All Builders  $200 -299 K for the Redland/Hanover plan.  This community also won Best Landscaping Design – Community/Condominium Complex Silver award and Best on Site Signage Silver award.  It's easy to see when a community is done right.
A seasoned Community Sales Manager with, Ida Spahr, leading the way, the team at Townes of Auburn seems to have the perfect mix for being successful.   The team seems to speak the same language.  All making the same comments as to their success.   We care and make a conscience decision in caring for our clients/buyers and this they believe reflects how the Corporate home Office cares and treats their employees.   Maya Caffey, Assistant Sales Agent, stated, " Our success is not just the Sales team it is all of the teams that help along the way, the Front Office, Closing and Production team and of course the Builder team on site" ,that this team can't say enough good things about.
Rocklyn Homes is a family owned company that prides itself on producing every home as they would their very own. Rocklyn Homes was created with a unique vision and passion to build a beautiful, well-constructed home at a reasonable price, and blend spacious interiors with an aesthetically pleasing exterior. It takes talent and tenacity to make a good builder, but it takes a strong team of dedicated individuals to make a good builder great. Our promise to you is to always deliver the quality, value, and reliability that makes a Rocklyn Home a home you' will feel good in today and tomorrow.